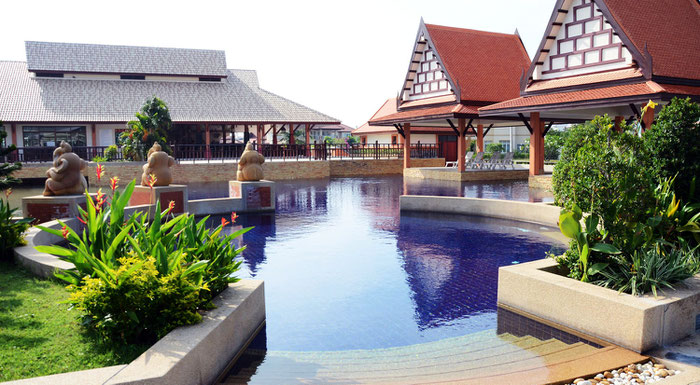 Our company is one of the leading construction and property developing companies in the field of long stay in Thailand. MV Inter Property Co., Ltd (former Logans Mountainview Residence Co., Ltd) used to be an affiliated company to Logans Thailand Co., Ltd but is now an independent company located in Bangsaen, Chonburi. Our project, Mountainview Residence has a product range that starts with economical houses up to luxurious quality homes.
Focus is on the Eastern Seaboard due to easy access to the new international airport Suvarnabhumi together with increasing interest from visitors to this region.
Our company's vision is that our customers should be able to expect a little bit more from us when it comes to quality in design and construction for a better living as well as a secure and prosperous economical investment.
Through a combination of innovative thinking and sound professional skills, Our company aim to offer the best alternative for customers who want good value for their investments.
Bangsaen Beach is a small seaside town - with colourful experiences and everyday life of Thailand.
The amazing Thailand. Bangsaen is a very pleasent town offering typical Thai hospitality and a friendly spirit. This is a place that you can discover on your own.
Hundreds of restaurants, a main street with shops, supermarkets and music cafés.
The holiday resort Bangsaen is located 90 km south-east of Bangkok, and 10 km from Chonburi city. One could say that Bangsaen lies in the heart of Thailand. Besides offering access to good transportation and high-class golf courses (You can reach more than 50 golf courses within an hour ), Bangsaen have a focus on beach activities and the bustling everyday life of Thailand.
Bangsaen Beach is something more than the usual place in the sun; on the discovery trail along the strand promenade you are greeted with a smile.
Mass tourism has passed by Bangsaen Beach and It has been able to retain its genuine Thai environment. The temples, the fishing village and the well known monkey Mountain - Khao Samuk.
Nightlife in Bangsaen is relaxed and calm. You can walk wherever you want and find your own special pleces. The evening can begin in one of the many seafood restaurants before ending up at one of the many lively music café.
Bangsaen offers warm hospitability and features a broad and widely diverse range of restaurants, music-clubs, shops and markets.
The main road outside Mountainview Residence, Bangsaen Sai 4 Nua Rd, has lately shown progress and expansion with several restaurants serving both Western and Thai food. Other housing projects are established as well as an recently opened sports center with football field, sports stadium and swimming pool.
Mountain View Residence consists of traditional as well as contemporary tropical homes for a modern lifestyle, approaching a real sense of tropical living, emphasizing space for your personal lifestyle activities within an expansive natural environment.
The appearance is designed in vacational style, while the interior is designed for real living with the highest functional standards.
Previous projects;
Bangsaen:
Tropical Residence, Palmtree Residence
Laem Mae Phim, Rayong:
Sunflower Residence, Blue Mango Residence, Bali Residence, Oceanview Residence, Avatara Condominium, Seaview Residence.