This is a development with attention on common areas, completing the absolute beauty of the houses and gardens.
House owners are involved in maintenance and care taking of the project. Several house owners with certain working experience or hobby interests are responsible for different areas. We have for ex pool-, security- and garden responsible owners who advices and participate in maintenance together with Thai staff.
Facilities (commercial facilities).
Pool.
The heart of the project is of course the pool area. The pool is a free form such with separate child pool, exercise pool and water fall. It measures approximately 650 square meters. There is sufficient space for sun chairs around the pool and why not enjoy an afternoon reading your favorite book in one of the tropical Salas.
Our adjacent restaurant functions also as a pool bar if you feel an urge for a cold drink (and who doesn't).
If you feel for some exercise, visit our gym located in the club house. Measures approximately 250 square meters, has separate dressing rooms, aircondition, sauna and all the latest fitness equipment and machinery.
After swimming and exercise, enjoy a drink or a bite at our open-air restaurant. Seats approximately 70 persons and serves a Thai / international menu. Functions for Christmas, New Year, Birthdays etc can be arranged and if the above seating is not sufficient, the pool deck can be used as well.
Common Areas.
Green areas.
Within the project, we have several green areas for common use. The largest of approximately 2500 square meters is located just north of the pool area. This is the place for a picnic, barbeque or maybe a game of boule.
Individual garbage bins by your own gate is due to hygienic and practical reasons not allowed. We have therefore a dedicated area for garbage so you need to take a short walk when your kitchen bin is full.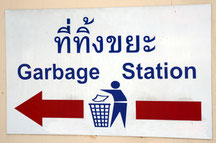 We have a Service Center located within the project (2 more located nearby).
They will assist you with cleaning, maid service, car and motorcycle rentals, transportation, hotel and flight tickets, garden service for your private land etc.
They have also rental programs for property owner to earn an annual rental return on your investment.
The regular maintenance of the project is done by one employed staff and contracted suppliers. All service done as per schedule and is supervised by our staff.
Budget, actual costs, repair needs etc is verified by house owners board annually and the goal is to reduce the monthly costs as we have more owners moving in.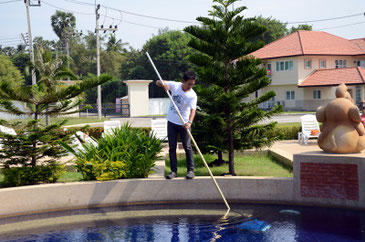 The following is included in the monthly cost:
 1) Pool keeping. Cleaning, scrubbing, checking pool pumps and chlorinators.Adding chemicals if needed.
   2) Guard service. 1 guard at gate daytime, 2 guards night time.
   3) Gardening for common areas. Grass cutting, tending of trees and plants.
   4) Cleaning of common areas.
   5) Cleaning of pool area and gym.
   6) Cleaning of garbage area.
   7) Budget for a repair fund.

All costs are declared to house owners every third month.